About Us
Pizza King is a Italian takeaway in Cardiff. Why don't you try our Lamb Donner Kebab or Pepsi?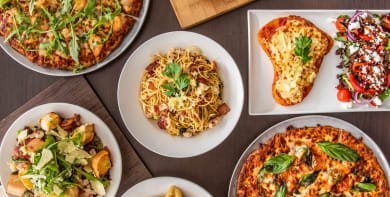 Reviews
64 reviews
HELEN
"These are amazing pizza's the only place we order from even the Deep Pan is still quite thin ********AMAZING PIZZA ********"
30/05/2020
David
"Perfect thank you"
27/05/2020
Mark
"Great food and great service, would definitely recommend"
15/05/2020
Gavinrhys
"Amazing food as usual and the fresh cooked chicken this time was the Best yet. We loved it."
07/05/2020
Menu
Garlic Bread Pizza with Cheese
£3.99
Chicken Nuggets (8 Pieces)
£2.90
Chicken Strips (6 Pieces)
£3.99
Jalapeno Cream Cheese (6 Pieces)
£3.50
Spicy Chicken Wings (6 Pieces)
£2.65
Haagen Dazs Ice Cream
Please indicate your choice of flavour in the comments box
£4.99
1 Piece of SF Chicken Regular
£1.20
1 Piece of SF Chicken With Fries
£2.00
1 Piece of SF Chicken - With Fries & Drink
£2.50
4 Pieces of SF Chicken Regular
£4.50
4 Pieces of SF Chicken With Fries
£5.00
4 Pieces of SF Chicken - With Fries & Drink
£5.70
6 Pieces of SF Chicken Regular
£6.50
6 Pieces of SF Chicken With Fries
£8.00
6 Pieces of SF Chicken - With Fries & Drink
£8.50
3 Pieces of SF Chicken Regular
£3.50
3 Pieces of SF Chicken With Fries
£4.50
3 Pieces of SF Chicken - With Fries & Drink
£4.70
2 Pieces of SF Chicken Regular
£2.30
2 Pieces of SF Chicken With Fries
£3.50
2 Pieces of SF Chicken - With Fries & Drink
£3.70
1st Pizza Topping BBQ Chicken
1st Pizza Topping BBQ Sauce
1st Pizza Topping Black Olives
1st Pizza Topping Chicken Donner
1st Pizza Topping Fresh Tomato
1st Pizza Topping Garlic Sausage
1st Pizza Topping Green Chillies
1st Pizza Topping Green Peppers
1st Pizza Topping Jalapenos
1st Pizza Topping Lamb Donner
1st Pizza Topping Mexican Chicken
1st Pizza Topping Mushrooms
1st Pizza Topping Pepperoni
1st Pizza Topping Pineapple
1st Pizza Topping Red Onions
1st Pizza Topping Spicy Beef
1st Pizza Topping Spicy Chicken
1st Pizza Topping Sweetcorn
1st Pizza Topping Tandoori Chicken
1st Pizza Topping Turkey Ham
2nd Pizza Topping BBQ Chicken
2nd Pizza Topping BBQ Sauce
2nd Pizza Topping Black Olives
2nd Pizza Topping Chicken Donner
2nd Pizza Topping Fresh Tomato
2nd Pizza Topping Garlic Sausage
2nd Pizza Topping Green Chillies
2nd Pizza Topping Green Peppers
2nd Pizza Topping Jalapenos
2nd Pizza Topping Lamb Donner
2nd Pizza Topping Mexican Chicken
2nd Pizza Topping Mushrooms
2nd Pizza Topping Pepperoni
2nd Pizza Topping Pineapple
2nd Pizza Topping Red Onions
2nd Pizza Topping Spicy Beef
2nd Pizza Topping Spicy Chicken
2nd Pizza Topping Sweetcorn
2nd Pizza Topping Tandoori Chicken
2nd Pizza Topping Turkey Ham
3rd Pizza Topping BBQ Chicken
3rd Pizza Topping BBQ Sauce
3rd Pizza Topping Black Olives
3rd Pizza Topping Chicken Donner
3rd Pizza Topping Fresh Tomato
3rd Pizza Topping Garlic Sausage
3rd Pizza Topping Green Chillies
3rd Pizza Topping Green Peppers
3rd Pizza Topping Jalapenos
3rd Pizza Topping Lamb Donner
3rd Pizza Topping Mexican Chicken
3rd Pizza Topping Mushrooms
3rd Pizza Topping Pepperoni
3rd Pizza Topping Pineapple
3rd Pizza Topping Red Onions
3rd Pizza Topping Spicy Beef
3rd Pizza Topping Spicy Chicken
3rd Pizza Topping Sweetcorn
3rd Pizza Topping Tandoori Chicken
3rd Pizza Topping Turkey Ham
Family Deal 14
• Medium pizza with 4 toppings
• Any medium kebab
• Any quarter pounder burger
• 3 x chips
• Bottle of drink
£15.99
Wrap Deal 12
• Any wrap
• Chips
• Can of drink
£4.99
Kebab Deal 10
• 2 x large kebabs
• 2 x chips
• 2 cans of drink
£12.50
Kebab Deal 9 Large
• Donner OR chicken kebab OR mixed kebab
• Fries
• Can of drink
£6.50
Kebab Deal 9 Medium
• Donner OR chicken kebab OR mixed kebab
• Fries
• Can of drink
£5.50
Burger Deal 11 Half Pounder
• Any burger
• Chips
• Can of drink
£5.00
Burger Deal 11 Quarter Pounder
• Any burger
• Chips
• Can of drink
£4.00
Chicken Deal 13 02 Pieces
• 2, 3 OR 4 pieces chicken
• Fries
• Drink
£3.00
Chicken Deal 13 03 Pieces
• 2, 3 OR 4 pieces chicken
• Fries
• Drink
£4.80
Chicken Deal 13 04 Pieces
• 2, 3 OR 4 pieces chicken
• Fries
• Drink
£5.80
Chicken Fillet Burger Half Pounder
£3.99
Chicken Fillet Burger Quarter Pounder
£2.99
Chicken Fillet Burger Meal Half Pounder
£5.99
Chicken Fillet Burger Meal Quarter Pounder
£4.50
Chicken Burger Half Pounder
£3.40
Chicken Burger Half Pounder
£3.40
Chicken Burger Quarter Pounder
£2.50
Chicken Burger Quarter Pounder
£2.50
Cheeseburger Half Pounder
£3.40
Cheeseburger Quarter Pounder
£2.70
Cheeseburger Meal Half Pounder
£5.00
Cheeseburger Meal Quarter Pounder
£4.00
Beef Burger Quarter Pounder
£2.50
Beef Burger Meal Half Pounder
£5.00
Beef Burger Meal Quarter Pounder
£4.00
Garlic Burger Half Pounder
£3.40
Garlic Burger Half Pounder
£3.40
Garlic Burger Quarter Pounder
£2.70
Garlic Burger Quarter Pounder
£2.70
Chilli Burger Half Pounder
£3.40
Chilli Burger Quarter Pounder
£2.70
Chilli Burger Meal Half Pounder
£5.00
Chilli Burger Meal Quarter Pounder
£4.00
Hawaiian Burger Half Pounder
£3.40
Hawaiian Burger Quarter Pounder
£2.70
Hawaiian Burger Meal Half Pounder
£5.00
Hawaiian Burger Meal Quarter Pounder
£4.00
Hawaiian Pizza 10" Regular
Pineapple & double turkey ham
£6.99
Hawaiian Pizza 12" Large
Pineapple & double turkey ham
£8.99
Hawaiian Pizza 14" Family
Pineapple & double turkey ham
£11.99
Hot & Spicy Pizza 10" Regular
Spicy beef, red onions, jalapenos & green chilli
£6.99
Hot & Spicy Pizza 12" Large
Spicy beef, red onions, jalapenos & green chilli
£8.99
Hot & Spicy Pizza 14" Family
Spicy beef, red onions, jalapenos & green chilli
£11.99
House Special Pizza 10" Regular
BBQ base, garlic sauce, tandoori chicken, pepperoni, salami, garlic sausage & pineapple
£6.99
House Special Pizza 12" Large
BBQ base, garlic sauce, tandoori chicken, pepperoni, salami, garlic sausage & pineapple
£8.99
House Special Pizza 14" Family
BBQ base, garlic sauce, tandoori chicken, pepperoni, salami, garlic sausage & pineapple
£11.99
Italian Pizza 10" Regular
Ham, salami, pepperoni, green peppers, onions, mushrooms & olives
£6.99
Italian Pizza 12" Large
Ham, salami, pepperoni, green peppers, onions, mushrooms & olives
£8.99
Italian Pizza 14" Family
Ham, salami, pepperoni, green peppers, onions, mushrooms & olives
£11.99
Vegetarian Pizza 10" Regular
Green peppers, mushrooms, red onions & sweetcorn
£6.99
Vegetarian Pizza 12" Large
Green peppers, mushrooms, red onions & sweetcorn
£8.99
Vegetarian Pizza 14" Family
Green peppers, mushrooms, red onions & sweetcorn
£11.99
Vegetarian Special Pizza 10" Regular
Black olives, green peppers, mushrooms, sweetcorn, red onions & mixed herbs
£6.99
Vegetarian Special Pizza 12" Large
Black olives, green peppers, mushrooms, sweetcorn, red onions & mixed herbs
£8.99
Vegetarian Special Pizza 14" Family
Black olives, green peppers, mushrooms, sweetcorn, red onions & mixed herbs
£11.99
Tandoori Hot Pizza 10" Regular
Garlic, green peppers, red onions, sweetcorn, tandoori & green chillies
£6.99
Tandoori Hot Pizza 12" Large
Garlic, green peppers, red onions, sweetcorn, tandoori & green chillies
£8.99
Tandoori Hot Pizza 14" Family
Garlic, green peppers, red onions, sweetcorn, tandoori & green chillies
£11.99
Seafood Galaxy Pizza 10" Regular
Prawn, tuna, sweetcorn & extra cheese
£6.99
Seafood Galaxy Pizza 12" Large
Prawn, tuna, sweetcorn & extra cheese
£8.99
Seafood Galaxy Pizza 14" Family
Prawn, tuna, sweetcorn & extra cheese
£11.99
Meat Feast Pizza 10" Regular
Double pepperoni, salami, double turkey ham & spicy beef
£6.99
Meat Feast Pizza 12" Large
Double pepperoni, salami, double turkey ham & spicy beef
£8.99
Meat Feast Pizza 14" Family
Double pepperoni, salami, double turkey ham & spicy beef
£11.99
Pizza King Pizza 10" Regular
Double chicken, jalapenos, mushrooms, sweetcorn, spicy beef & green chillies
Hot
£6.99
Pizza King Pizza 12" Large
Double chicken, jalapenos, mushrooms, sweetcorn, spicy beef & green chillies
Hot
£8.99
Pizza King Pizza 14" Family
Double chicken, jalapenos, mushrooms, sweetcorn, spicy beef & green chillies
Hot
£11.99
Planet Pepperoni Pizza 10" Regular
Pepperoni, pepperoni, pepperoni & extra cheese
£6.99
Planet Pepperoni Pizza 12" Large
Pepperoni, pepperoni, pepperoni & extra cheese
£8.99
Planet Pepperoni Pizza 14" Family
Pepperoni, pepperoni, pepperoni & extra cheese
£11.99
Free Choice Pizza 10" Regular
Any 4 toppings of your choice
£6.99
Free Choice Pizza 12" Large
Any 4 toppings of your choice
£8.99
Free Choice Pizza 14" Family
Any 4 toppings of your choice
£11.99
Donner Feast Pizza 10" Regular
Lamb donner & double chicken donner
£6.99
Donner Feast Pizza 12" Large
Lamb donner & double chicken donner
£8.99
Donner Feast Pizza 14" Family
Lamb donner & double chicken donner
£11.99
Blast Off Pizza 10" Regular
Spicy beef, salami, spicy American sausage & ham
£6.99
Blast Off Pizza 12" Large
Spicy beef, salami, spicy American sausage & ham
£8.99
Blast Off Pizza 14" Family
Spicy beef, salami, spicy American sausage & ham
£11.99
Blue Moon Classic Pizza 10" Regular
Mushrooms, ham, rocks of pineapple & extra cheese
£6.99
Blue Moon Classic Pizza 12" Large
Mushrooms, ham, rocks of pineapple & extra cheese
£8.99
Blue Moon Classic Pizza 14" Family
Mushrooms, ham, rocks of pineapple & extra cheese
£11.99
BBQ Pizza 10" Regular
BBQ sauce, BBQ chicken, onion, mushrooms & green peppers
£6.99
BBQ Pizza 12" Large
BBQ sauce, BBQ chicken, onion, mushrooms & green peppers
£8.99
BBQ Pizza 14" Family
BBQ sauce, BBQ chicken, onion, mushrooms & green peppers
£11.99
Chicken 4 U Pizza 10" Regular
Mexican chicken, chicken tikka, plain chicken & Chinese chicken
£6.99
Chicken 4 U Pizza 12" Large
Mexican chicken, chicken tikka, plain chicken & Chinese chicken
£8.99
Chicken 4 U Pizza 14" Family
Mexican chicken, chicken tikka, plain chicken & Chinese chicken
£11.99
Cheese & Tomato Pizza 10" Regular
£5.99
Cheese & Tomato Pizza 12" Large
£6.99
Cheese & Tomato Pizza 14" Family
£8.99
Lamb Donner Kebab with Fries Large
£5.80
Lamb Donner Kebab with Fries Medium
£4.80
Mixed Kebab with Fries Large
£6.00
Mixed Kebab with Fries Medium
£5.00
Chicken Shish Kebab Large
£5.80
Chicken Shish Kebab Medium
£4.80
Chicken Kebab with Fries Large
£6.00
Chicken Kebab with Fries Medium
£5.00
Pizza Deal 5
• A large pizza
• 2 pieces of chicken
• 4 pieces of garlic bread
• 2 chips
• 2 cans of drink
£12.95
Pizza Deal 6
• 3 medium pizzas (with 4 toppings each)
• Any 3 sides (garlic bread, coleslaw, chips OR 8 onion rings OR potato wedges)
• 3 cans of drink
£18.99
Pizza Deal 7
• 2 large pizza (with 4 toppings each)
• Any 2 sides (garlic bread, coleslaw, chips OR 8 onion rings OR potato wedges)
• 3 cans of drink
£17.99
Pizza Deal 8
• 14" pizza (with 4 toppings each)
• Portio of spicy wings
• Large chips
• Bottle of drink
£14.99
Pizza Deal 1
• Large pizza with 4 toppings
• Any 2 sides (garlic bread, coleslaw, chips OR 8 onion rings OR potato wedges)
• 2 cans of drink
£11.99
Pizza Deal 2
• Any medium speciality pizza
• 4 pieces of chicken
• Large fries
• 2 cans of drink
£12.99
Pizza Deal 3
• Any large speciality pizza
• 6 pieces of chicken
• Large fries
• 2 cans of drink
£15.99
Kids 3 Pieces Chicken Strips
£3.50
Kids Chicken Nuggets (4 Pieces) & Onion Rings
£3.50
Any 2 Pizzas 10" Medium
With 2 FREE dips
£11.95
Any 2 Pizzas 12" Large
With 2 FREE dips
£14.99
Any 2 Pizzas 14" Family
With 2 FREE dips
£19.99
Pizza Deal 4
• 2 medium pizza with 4 toppings each
• Any 2 sides
• 2 cans of drink
£13.99
Special Offer 1
• 10" medium pizza with 4 toppings
• 1 side order (coleslaw, onion rings, garlic bread OR chips) 
• 2 drink
£7.99
Special Offer 2
• 10" medium pizza with 4 toppings
• Any medium kebab
• 1 chips
• 2 drinks
£11.99
Contact Us
Find Us
43 Clifton Street, Cardiff, CF241LS
We deliver to
CF10, CF11, CF23, CF24, CF3